Swampscott, MA Groom Construction Co., Inc. recently completed Fishermans Watch, a collection of 28 luxury condominiums. Within six months of delivery, all units were sold. This $ 22 million development includes two and three bedroom residences, each offering unique amenities ranging from 1,400 to 2,500 s / f ranging from one-level garden units to two-story penthouses.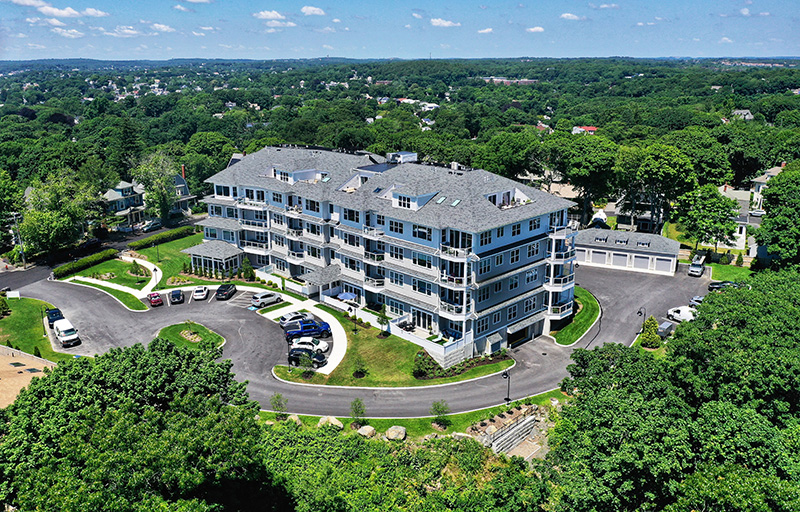 The five-story building is located at the highest point in the city, with many units offering expansive ocean views of Swampscott, Nahant, and the Boston skyline. On-site amenities include a rooftop club room, gym, private terraces, gardens and a garage. The project was designed by Groom Construction and Grazado Velleco Architects with interior finishes by John Day of Lda Architecture & Interiors.
Tom Groom, director and developer of Fishermans Watch, said, "We've been working on Fishermans Watch with this team for many years – taking an abandoned 100,000 s / f school and turning it into a condominium. We are delighted to see this project become a reality and proud to participate in the creation of housing in the community of Swampscott.
The concept of Fishermans Watch was to move the building away from the road, on several levels, to visually reduce the mass of the building. Hip roofs and shingle styles have also been incorporated to blend in with the surrounding neighborhood and reflect the area's period architecture. Keeping a connection with the coastal site and the history of the region, the interior design incorporated natural materials such as ship covers, wood and marble trim as well as modern finishes.
The project team included:
Groom Construction – General contractor
JKA Construction Inc. – Rough frame
National Lumber – Lumber
Lda Architecture & Interiors – Interior designer